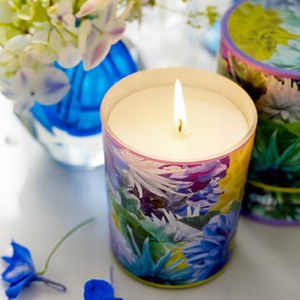 Candles happen to be the perfect choice for dispersing wonderful fragrances inside the home. Aside from that, candles have the ability to transform a corner into a romantic place and they are perfectly capable of making your home smell good for long periods of time. Undeniably, people have distinct preferences when it comes to fragrances. There are those who stick to flowery scents, those who love the cool smell of herb scents and those who adore to smell vanilla in their homes. There are also pastry smells that can make a home welcoming. Needless to say, there are scents which simply suit the seasons. Here are some of the best seasonal smells that will tease your nostrils.
Cool and Fresh Fragrances that have a Essence of Summer
The warm and bright summertime is the perfect season to throw open the windows and let the breeze waft through the house. Lemongrass has a clean and fresh smell that will make people think that you just cleaned your house. Citrus scents is another choice that can never go wrong especially when its summer. This scent will smell perfect with cucumber or lime. If you are not into those fruity scents, sea salt has a fragrance that emanates smells of summer, sea and sand. With this scent you can bring the scent of the beach into your home. For those who love pastry scents, blueberry cheesecake and sugar cookies smell a lot like summer and they will surely smell yummy.
Warm and Comforting Scents for Long Winters
A soothing glow during the winter months and a fresh fragrance would be perfect company especially for the snow blanketed days. The scent of spicy cinnamon apple wafting through your home would surely give you a craving for a piece of pie. Peppermint and pumpkin scents are also the perfect fragrance to accompany you during those chilly evenings. These aromas have a calming effect and they can set the vibe inside your home. A hint of spruce and cinnamon would also be a great way to bring the winter breeze inside your home without inviting the biting cold to step inside. The smell fresh pine trees and evergreens are perfect especially during the Yuletide season.
Delightful Fragrances to Welcome Springtime
Growing plant life and sprouting buds spell springtime. Fruity fragrances are perfect for this season or you can choose sage with a hint of berry and rosemary. This charming fragrance smells just like spring. For a subtle yet wonderfully fresh scent, wild rose is the perfect choice! Another wonderful choice would be lavender, or there's grass scent which will surely call grass-covered rolling hills to mind.
Charming Scents to Capture the Autumn Air
The changing color of the leaves is one of the first signals of a change in the season and with that comes a whole new atmosphere. Caramel and apple fragrance make a team as far as autumn fragrances is concerned. There's also vanilla and cranberry which will remind you of the changes outside as well as the trees which are about to shell off their leaves. A hint ginger would also be perfect for bringing in a chilly autumn breeze inside your home.